Frequently Asked Questions
What is the Lucas Fiorella Friendship Bench?
This not-for-profit corporation was launched in April 2015 to continue the selfless acts of Lucas Fiorella, a Canadian student who, after suffering from depression in secret for a number of years, took his own life in October 2014. In the aftermath of his death, Lucas's family and friends learned about his silent battle but also his efforts to reach out and save other students who were also suffering.
A number of Lucas's friends and classmates reported that he took the time to reach out to them when he sensed they were suffering from anxiety or depression. Each conversation started with a random "hello" and in each case, Lucas provided the courage and acceptance needed for his peers to speak about their suffering with family and/or professionals, which in turn prevented them from dropping out of school, hurting themselves or taking their own lives.
What is the goal?
Our campaign seeks to decrease the number of suicides and suicide attempts occurring among Canadian students between the ages of 15 and 24 by:
1. Encouraging peer-to-peer conversation about mental health among students and decreasing the stigma surrounding it.
2. Educating students about the causes of mental illness and how to build resilience tool kids to combat the disease.
3. Connecting more students to available on-campus and in-community mental health resources both as a preventative measure (for new students who may be at risk) and support measure (for those suffering).
What does the Lucas Fiorella Friendship Bench do?
Our 100% volunteer staff works with school faculty, student groups, and community partners to create national and local mental health awareness initiatives that support our goals as stated above. At the centre of this effort is the installation of our now iconic yellow Friendship Bench, which acts as a permanent 24/7/365 visual reminder for students to take a minute out of their day to sit, say "hello," and talk openly and honestly about mental health.
Is this a "Buddy Bench"?
The "Buddy Bench" is a worthy effort but not affiliated with our program. We are not an anti-bullying or "I need a friend" campaign, and we don't promote The Friendship Bench as a place where students should go sit when they're suffering or in need of help. This bench, which is part of the larger #YellowIsForHello mental health awareness campaign, is designed to be used as any other on-campus bench: Sit, relax, talk to friends.
The Friendship Bench in secondary and post-secondary schools is a year-round reminder to students to reach out and talk to each other openly and honestly about mental health. It acts as a call-to-action to students to think about mental health and to check in with each other. Further, it's a tool that school counselling teams and student volunteers uses to augment their existing mental health awareness efforts or a place to host/launch local executions of our national mental health awareness campaigns.
Connecting students to On-Campus Mental Health Support
We do not replace on-campus counselling services, nor are we a phone or in-person counselling service. Rather, our goal is to connect more students to available on-campus mental health support services. The campaign does this in two ways:
1. Soft-Interventions: The plaque on each bench links students to www.yellowisforhello.org. The site detects the location of the computer, tablet, or phone being used and drills down to the local bench on a map of Canada. There, students will be provided a link to existing on-campus mental and physical support personnel and services.
2. Peer-to-Peer Conversation: Together with local counselling personnel and campaigns, we've discovered that when students speak to each other openly and honestly about mental health, they give each other the permission to reach out and ask for more education or help, when needed. Students today prefer to crowdsource information, and that crowdsourcing extends to the acceptance of mental illness as a taboo-free subject where no one will be made to feel "weird" or "different" if they share their experiences and fears.
Does the program work?
Since the #YellowIsForHello campaign launch in 2015, response has been tremendous. The first schools to launch the program quickly reported an increase in the number of students reaching out to on-campus teams for support. Further, a marked increase in the number of unsolicited student posts on social media about the importance of mental health awareness or statements of support have been noted. As an example, the on-site social worker at our first secondary school reported that one of the first students to reach out was a "senior school sports hero" who had been suffering silently for a number of years and neither sought help nor spoke to anyone about this depression. His first comment in reaching out was "I now feel that it's OK to talk about this."
Campuses that have the program running state that they've seen approximately 18% increase in the number of students seeking help for some form of depression.
What is #YellowIsForHello?
The #YellowIsForHello campaign is so named to draw attention to the bench and its purpose: When you see yellow, think "yellow is for hello," reach out to a friend and talk about mental health. The #yellowisforhello hashtag campaign is used to connect students to our various mental health awareness campaigns, such as:
National Campaigns – Our hashtag is also used to connect national awareness campaigns and peer-to-peer discussions through a variety of national campaigns that we sponsor including our annual Lip-sync Battle for Mental Health," "YellowMonday," and "Athletes for Mental Health," campaigns, among others. Participating schools, mental health counsellors and/or student volunteers are provided the option to join us in promoting and delivering these campaigns on a local level.
On-Campus Support – The bench is used by participating institutions as a focal point for its own mental health initiatives. For example, some schools adopt the colour yellow into their mental health programs, others use the location of the bench as regular location for mental health awareness events, etc. Others create unique campaigns designed specifically to work with the bench such as Fletcher's Meadow Secondary that created/installed a 3- dimensional "hello" sign that features pull out "conversation cards," which make a game out of starting conversations. Niagara College created/installed a "Yellow Friendship Wall" near the bench that asks students to post/take positive mental health messages with yellow Post-It Notes.
Host schools are can also take advantage of one-time or ongoing mental health educational lectures provided by our co-founder, Sam Fiorella. Sam, a professional speaker, author, professor, and marketing executive before co-founding this initiative, now provides educational mental health lectures to schools, parents, businesses, and community groups across the country. Learn more here.
Is there a need for this?
Suicide has become the 2nd leading cause of death among Canadians aged 15 – 34, according to statistics provided by the University of Guelph. That does not include the number of students who have considered suicide or who have dropped out due to depression or other mental health-related issues.
Further according to Statistics Canada research, more than 50% of students who suffer from depression never report it to friends, family, or professionals, despite the fact that more and more secondary and post-secondary schools are adding full-time mental health counsellors on staff.
How many schools are involved?
Our campaign was launched in April 2015 and the first installations began September 2015. As at the end of the 2018/19 school year, over 50 Canadian schools have adopted our campaign, installing some 60 benches from coast to coast.
You can see the current locations on our interactive map at The Friendship Bench and Yellow is for Hello websites. As part of our campaign efforts, we have delivered mental health lectures to over 100,000 students, parents, and community members.
Who can receive a bench?
The primary target for The Lucas Fiorella Friendship Bench and the #YellowIsForHello campaign is secondary and post-secondary schools; however, we do consider requests from elementary schools, community centres, fire halls or other locations where students frequent. For elementary schools or community groups, we encourage representatives to reach out to us via our website contact form in order to set up a consultation to determine how we may partner together.
Is this an indoor or outdoor bench?
The 6-foot all-mental park bench is made in Canada by a manufacturer who supplies most schools and property management companies already. It's powder-coated in our exclusive shade of yellow and UV protected to handle all of Canada's climates. Schools that adopt the program have the option to install the bench indoor or outdoors. Our only request is that it's installed in a high traffic location where most students will see and/or use the bench daily.
What does the program cost? How can I buy a bench?
We don't "sell" benches. Our organization, run completely by volunteers, aims to donate the campaign, which includes the yellow Friendship Bench, to schools across Canada. We work tirelessly to raise enough funds to support all the schools asking for the program; however, currently the demand for #yellowisforhello has outpaced our ability to raise sufficient funds to support the requests. The current estimated cost to our organization to launch a #YellowIsForHello campaign (including bench manufacturing/delivery, unveiling ceremony, give-a-ways, website support, campaigns, etc.) is $7,000 per school. In addition, costs incurred by our organization to keep the campaigns and support running are estimated $2,000 per school/year. When campaign or bench requests are received, the school is put in queue until funds can be raised for that request.
In order to speed up access to the program that is already helping Canadian students, we are partnering with schools, school boards, parent associations, community partners, and student councils to launch independent fundraising programs to cover some or all of the program costs required their respective schools. We're also receiving support from socially-conscious businesses that have started fundraising efforts among their staff and clients.
Schools that initiate fundraising campaigns, or that directly support our organization by covering some or all of year one costs, are moved up the donation priority queue. Costs for year two and beyond are the responsibility of The Lucas Fiorella Friendship Bench. There is no obligation by host schools to contribute or continue to fundraise; however, we gladly accept any additional support that schools or community groups wish to provide.
Click here to download a printer-friendly PDF version of this FAQ page.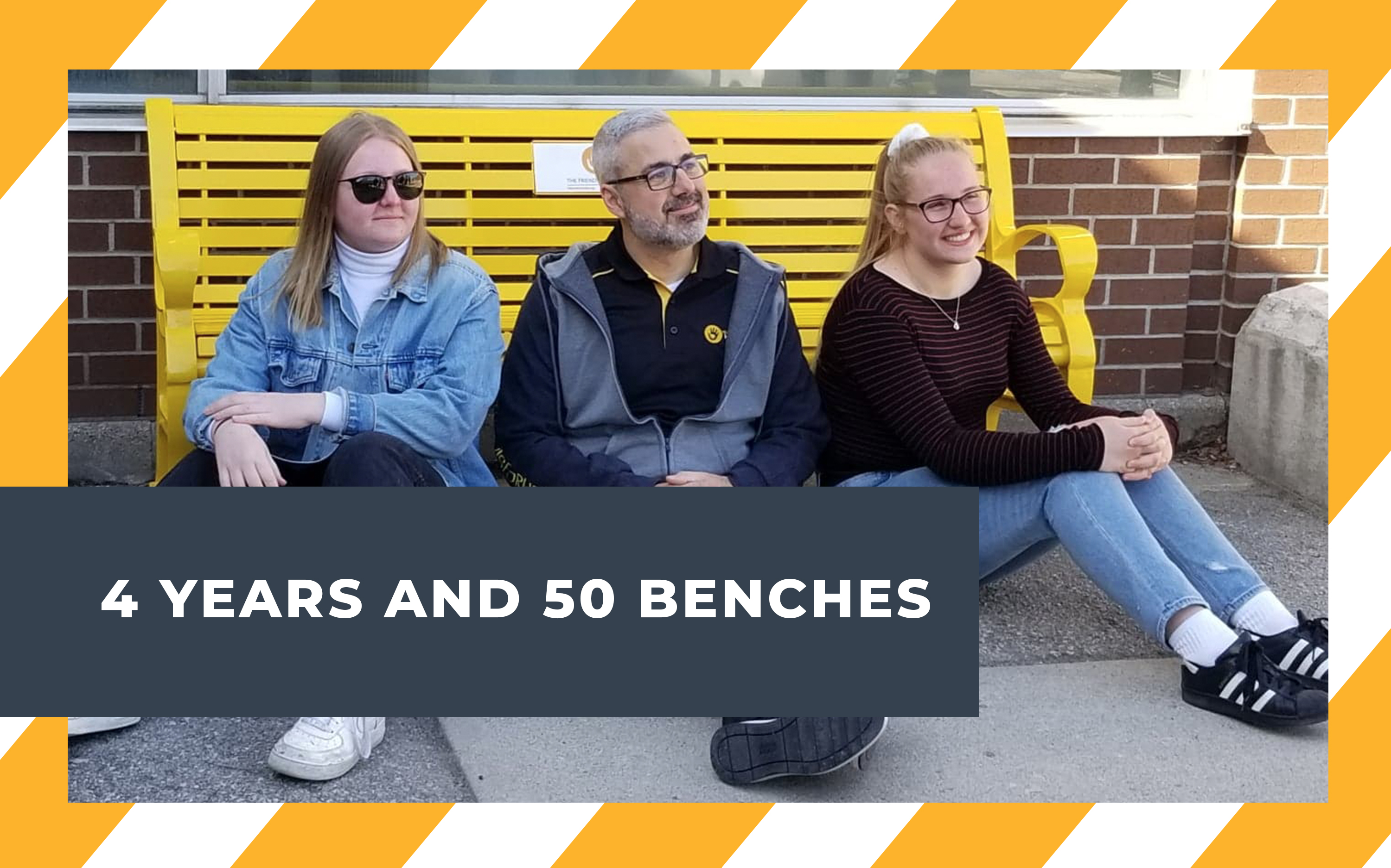 In October 2014, I lost my son to suicide after a long and very secret battle with depression. So secret, in fact, that only he knew of his illness until the day of his death. Upon his passing, Lucas's peers shared countless stories of him initiating conversations,...
read more