On the occasion of his 8th birthday, young Lucas continued his annual "give back" effort. This year, he asked his family and friends to donate money to the Yellow Is For Hello mental health awareness campaign so that more Friendship Benches and their associated awareness campaigns may help other students.
This morning Lucas and his mother visited The Lucas Fiorella Friendship Bench Co-Founder Sam Fiorella and his family to present his donation. Included was this heartfelt note: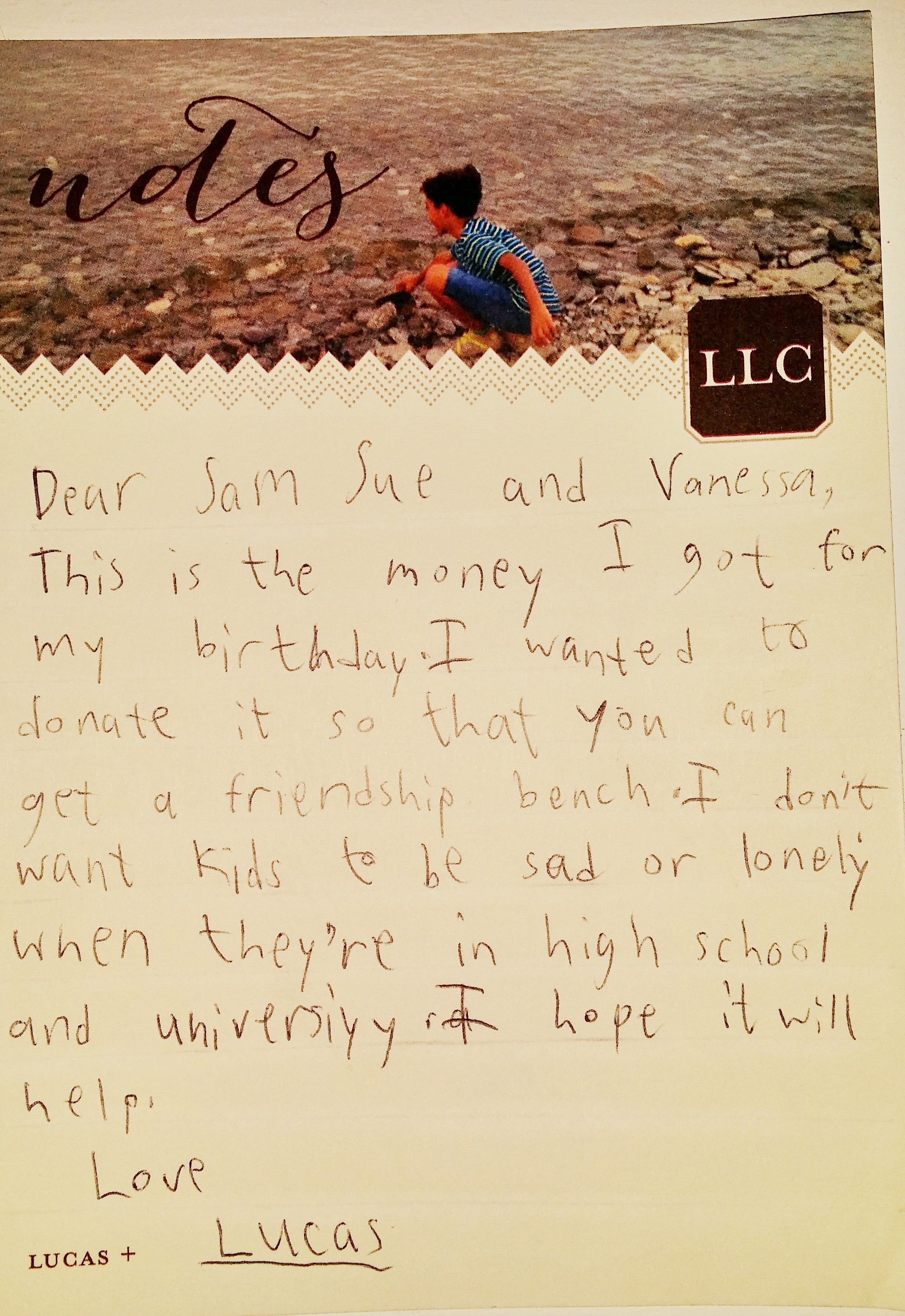 In lieu of birthday gifts, Lucas raised and donated over $600 to the Yellow Is For Hello student mental health awareness campaigns.
STUDENT MENTAL HEALTH AWARENESS PROGRAM
The Yellow Is For Hello mental health awareness program, which includes the installation of a bright yellow Friendship Bench on secondary and post-secondary school campuses, serves as permanent, year-round "soft intervention" program that connects students suffering with anxiety, stress, depression or other mental health concerns with available on- and off-campus support services.
While the program has been operating for less than 6 months in Canadian schools, a significant increase in the number of students seeking help has already been reported in schools that have a Friendship Bench. Unfortunately, the demand for the program and services has been overwhelming and already surpassed our ability to fund all the required campaigns. Currently, the organization operates solely on the generosity of our community and host-schools.
The first schools to install the program include Carleton University, Niagara College, University of Waterloo, Simon Fraser University, and Holy Trinity Secondary School. Another 25 programs are currently being planned with countless more requests submitted.
For a list of ways you may get involved, please visit our "Get Involved Page."
Our volunteer committee wishes to congratulate this young man for his inspirational generosity and empathy, and offer our heartfelt thanks for all who supported him!
P.S. Style points for having personalized stationary at 8 years old.