The Organization
The Lucas Fiorella Friendship Bench is Canadian-registered not-for-profit corporation that launched in April 2015 to continue the selfless acts of Lucas Fiorella, a Canadian student who, after suffering from depression in secret for a number of years, took his own life in October 2014.
In the aftermath of his death, Lucas's family and friends learned about his silent battle but also his efforts to reach out and save other students who were also suffering. A number of Lucas's high school and university friends and classmates reported that he took the time to reach out to them when he sensed they were suffering from anxiety or depression.
Each conversation started with a "hello" and in each case, Lucas provided the courage to speak about their suffering with family and/or professionals and prevented these students from dropping out of school or taking their own lives through suicide.  
And so, inspired by Lucas's efforts, our group seeks to decrease and eventually eliminate the number of suicides and suicide attempts occurring among Canadian students between the ages of 14 and 25 by:
Encouraging peer-to-peer conversation about mental health among students in order to drive greater awareness of the disease and threat to students, recognition of the symptoms, knowledge of the prevention and support services available
Connecting more students to available on-campus and in-community mental health resources both as a preventative measure (for new students who may be at risk) and support measure (for those suffering)
Educating students and parents about the causes and signs of the various forms of mental illness so that students may be more aware of their own mental health and that of their friends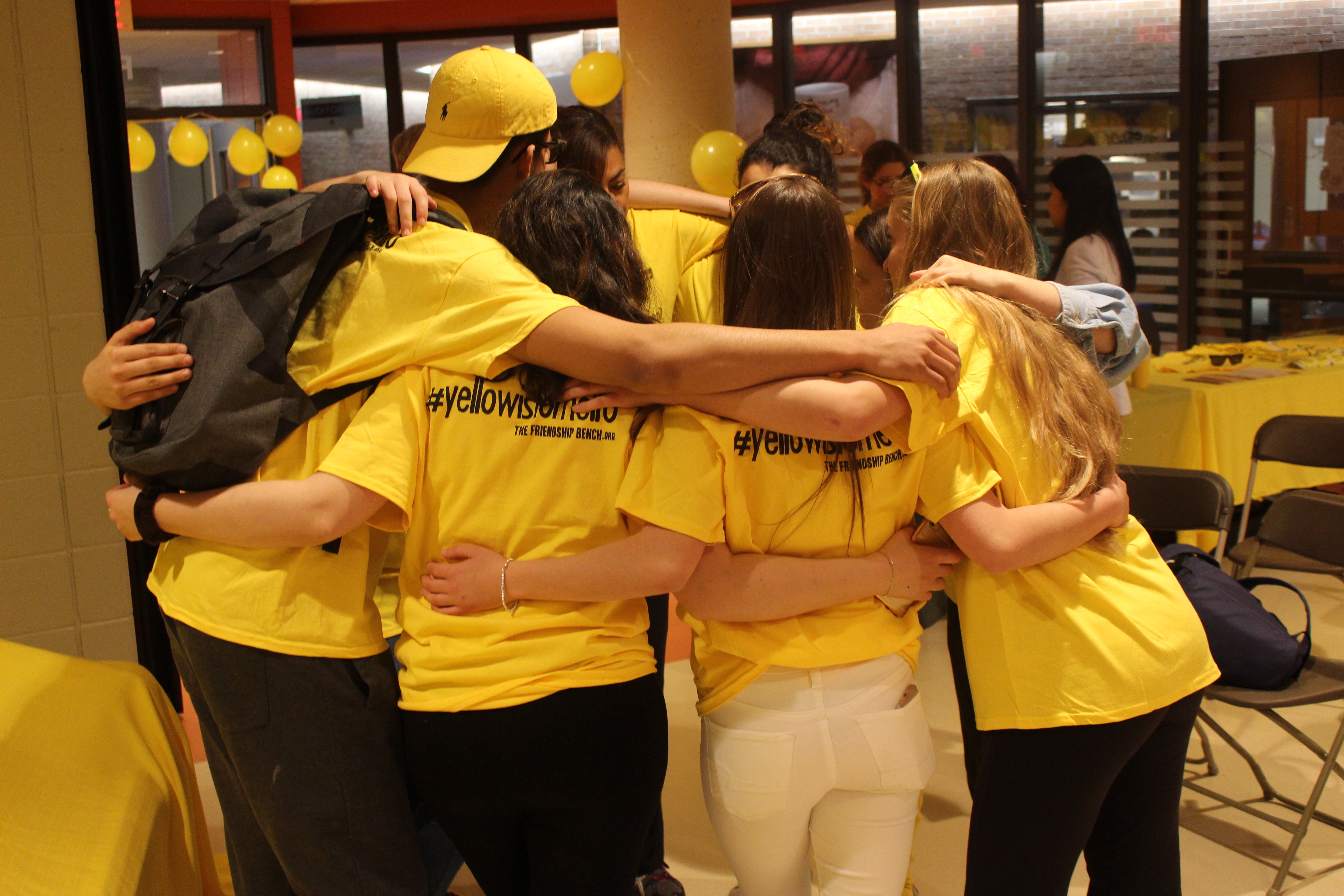 Mental Health Awareness/Education
Our 100% volunteer staff work with the school's faculty, volunteers, students, and community partners to raise funds in order to implement our national mental health program in local schools. Here is a quick overview of what we do and how we work with host schools:
1: The Friendship Bench
Our efforts are built around this iconic yellow friendship bench, which is installed at secondary and post-secondary schools. It serves as a permanent, physical, and year-round reminder to students to take a moment out of their day to sit, breathe, and talk (or think) about their mental health and that of their friends. It's intended to inspire peer-to-peer conversations about mental health in order to reduce the stigma and encourage more students seek help.
The plaque on the bench links students to yellowisforhello.org, which provides links to the mental health support services on and off-campus. It also lists the #YellowIsForHello hashtag, which connects students to each other and our positive support messages through social media.
2: #YellowIsForHello
The affiliated #YellowIsForHello campaign, so named to draw attention to the bench and its purpose, is used to connect on-campus and digital awareness and education campaigns. For example, our Facebook page posts "Mental Health Monday" tips and strategies each Monday, "Wellness Wednesday" articles promoting mental and physical health while at school, and "Feel Good Friday" posts intended to inspire positive thinking and community. Our Instagram account shares daily positive images and philosophies – along with campaign news and updates – intended to help support daily positive affirmations.
3: National Campaigns
Our hashtag is also used to connect national awareness campaigns and peer-to-peer discussions through a variety of national campaigns that we sponsor including "Bench Conversations," "10 Days of Happy," "100 Misfits," and others. Participating schools, mental health counsellors and/or student volunteers are provided the option to joining us in promoting and delivering these campaigns on a local level, but it's not mandatory.
4: On-Campus Support
The bench is used by participating institutions as a focal point for its own mental health initiatives. For example, some schools adopt the colour yellow into their mental health programs, others use the location of the bench as regular location for mental health awareness events, etc. Others create unique campaigns designed specifically to work with the bench such as Fletcher's Meadow Secondary that created/installed a 3-dimensional "hello" sign that features pull out "conversation cards," which make a game out of starting conversations. Niagara College created/installed a "Yellow Friendship Wall" near the bench that asks students to post/take positive mental health messages with yellow Post-It Notes.
5: On-Campus Lectures
Host schools are can also take advantage of one-time or ongoing mental health educational lectures provided by our Co-Founder, Sam Fiorella. Sam a professional speaker, author, professor, and marketing executive before starting this initiative, now provides educational mental health lectures to schools, parents, businesses, and community groups across the country. Learn more here.
6: Fixtures and Campaigns
Participating schools can also take advantage of supplemental mental health awareness fixtues and campaign such as our "#YellowIsForHello Conversation Areas," and "Yellow Friendship Walls." Ask about details.
You can help us meet our goal by donating here – thank you.